Walt Disney's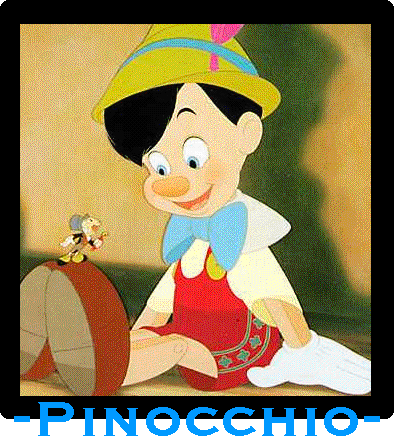 ---
After the massive success of Snow White and the Seven Dwarfs, Walt Disney jumped into a long string of animated features of the forties. The first being Pinocchio.

A fairly well-known Carlo Collodi tale, Pinocchio was predicted to be a simple success, and it's production was pushed along at a circus pace. About halfway through production, Walt stopped it, and rebegan. He felt that the movie had lost it's entertainment quality. Characters were redesigned and most natable was the addition of the friendly concience, Jimminy Cricket.

Voiced by Cliff "Ukelele Ike" Edwards, the endearing insect is what essentially bound the film together. Without the inclusion of Jimminy, Pinocchio may not have become the classic it is today. In fact, this film was only the start of Mr. Cricket's career- he went on to star in Fun and Fancy Free, and play several guest roles on The Mickey Mouse Club- singing "You, the Human Animal," and "I'm No Fool."

When released to theatres in 1940, spectators marveled at the picturesque qualities, but seemed disatisfied. For the first time for a feature film, Walt Disney escaped the Academy with not one- but two Oscars- Best Song (When You Wish Upon a Star), and Best Scoring of a Musical Picture. Unfortunately, World War Two was on the brink of beginning, and so Pinocchio suffered in the money-making area- losing almost half of it's 2.3 million cost. Even so, it has well made up for the loss, and now (along with Snow White and the Seven Dwarfs) holds the record for number of theatrical re-releases. Pinocchio remains one of the most endearing, magical, musical classics ever to grace the silver screen.
---
Pinoccho Lyrics
---
Pinocchio Pictures
Very Colorful Pinocchio Poster
Original Theatrical Release Poster
And Another Pinocchio Poster
Blue Fairy and Pinocchio
And Always Let Your Conscience Be Your Guide
Jimminy and Gideon
Pinocchio Sketch Page
---
Pinocchio Links
---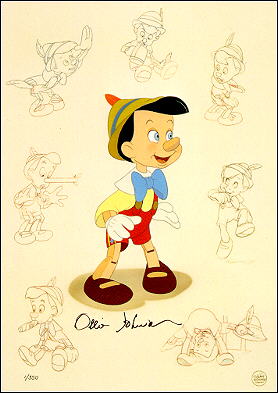 Return to the Disney Page
Return to Fun and Fancy Free