Walt Disney's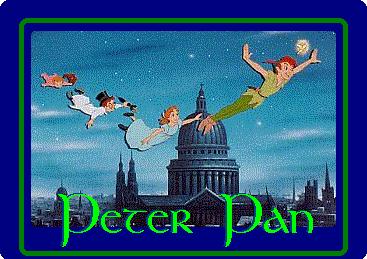 ---
When Alice in Wonderland proved a massive failure, Walt Disney turned to another classic: Peter Pan for his next full length animated feature. He had recruited James M. Barrie's Peter Pan in 1938, but had never gotten very far into the production. He had started preliminary work in the mid-forties, but had to set it aside due to World War II. When Cinderella brought Disney out of the anthology feature age, he turned full time towards Alice and Peter.
Voice Artists Kathryn Beaumont (Alice in Wonderland) and Bobby Driscoll (Song of the South, Melody Time, So Dear to My Heart, Treasure Island) were cast in the leads of Wendy and Peter Pan.
Released in 1953, Peter Pan gained the Disney Company is necessary revenue to continue with other features as well as brought back the Disney reputation. It, did however gain scorn from Barrie loyalists, specifically for a Marilyn Monroe-designed TinkerBell. An interesting side note, however: TinerBell was actually designed from a different model, not Monroe. Peter Pan is soon to be released both on soundtrack and to home video (for the first time since 1990) and will once again claim it's place among the highest of Disney's classics.
Coming upon it's 55th birthday, Peter Pan was one of the films that Walt himself did not participate directly in: he was, rather in England making his first live-action movies. As animator Ollie Johnston put it, "Maybe there was less involvement [by Walt] with Peter Pan, but he was the motivation for the picture."
---
Peter Pan Graphics
Wendy Sewing Peter's Shadow Back On
"What Makes the Red Man Red?"
"You Can Fly! You Can Fly! You Can Fly!"
Peter Fighting Captain Hook
"Look Out Wendy!"
"Real Mermaids!"

---
---
Links to Other Peter Pan Sites
DisneyMania
Christy's Peter Pan Image Directory
---