Walt Disney's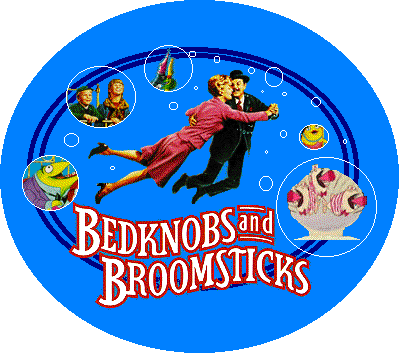 ---
"Treguna, Makoites, and Tracorum Satis Dee..." Go the words to the mystical Substitutiary Locomotion, which leads us through The Age of Not Believing, and straight into the musical fantasy, Bedknobs and Broomsticks.
Walt Disney had pursued the novel for several years, and after the great success of Mary Poppins, the author finally released it to him. As with Mary Poppins, songwriters Richard and Robert Sherman were immediately called in and sent to the task of- you guessed it!- writing songs!!They adapted The Beautiful Briny from a song written for Mar Poppins, but cut; for Bedknobs and Broomsticks. Another song, The Age of Not Believing was even nominated for the Academy Award for Best Song.
Starring Angela Lansbury (Eglantine Price), and David Tomlinson (Emelius Brown), Bedknobs and Broomsticks was released in 1971 to an enthusiastic public in Radio City Music Hall. However, following the success of Mary Poppins, many spectators promptly pointed out the similiarites between the two: magic, children, and David Tomlinson. All that aside,Bedknobs and Broomsticks is a "Thoroughly entertaining fantasy," (Leonard Maltin, The Disney Films) that both young and old will greatly enjoy. Bedknobs and Broomsticks also won the 1971 Academy Award for best Visual Effects, and is a current member of the Walt Disney Masterpiece Collection on Home Video. A new, restored version of Bedknobs and Broomsticks featuring scenes cut from the original release was shown on the Disney Channel in August. Songs "With a Flair," "Nobody's Problems," and "A Step in the Right Direction" were added as well as more verses in "Eglantine," and "Portabello Road." The lyrics found for Bedknobs and Broomsticks are from that version.
---
Bedknobs and Broomsticks Lyrics
---
Bedknobs and Broomsticks Pictures

The Children and Some Sea Life
It's Lovely, Bobbin' Along...
The Briny Boys
Professor Emelius Brown
The Beautiful Briny Sea!
Eglantine Price
---
Bedknobs and Broomsticks Links
---

Return to the Disney Page
Return to Fun and Fancy Free