My Award
---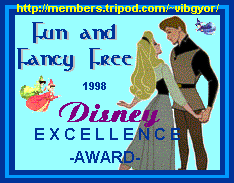 Okay, there isn't much in the way of requirements for my award- other than you have a good Disney site that is both suitable for children as well as fun to visit. I would appreciate a link back to my site, but it's not required. I keep a record of who has this award, so don't be stealing it. The award can be won by filling out the form below, as I award once a month. If no one signs up for the award that month, none will be rewarded. I will review every site that is nominated, and choose one. When January 1999 rolls around, I shall also give an award to an extremly good page(that has won a monthly award), as a yearly excellence award. So sign up now for the Fun and Fancy Free Award!
Have a page that's not Disney-related but still deserves an award? Email me for details with the information required for my non-Disney excellence award. There isn't, however a monthly or yearly program.
---
To Apply
Simply E-mail Me with the following information:
Your Real Name
Your E-mail Address
Your Web Site URL
Your Web Site Name
Are You the Keeper of the Site, or Are You a Visitor Who Wanted to Nominate It

---
I will get back to you as soon as possible, and I will award the monthly and yearly award around January 15, 1997. Thanks, and Good Luck!
---